Microchipping Employees: A New Frontier or a Thing to Fear?
By Steven McConnell, Director Of Marketing and Head Of Digital Products, Arielle Careers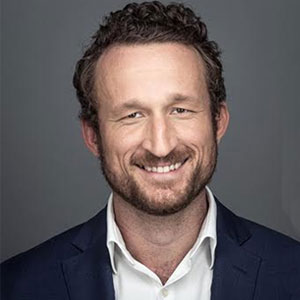 Steven McConnell, Director Of Marketing and Head Of Digital Products, Arielle Careers
Implants have been part of the medical industry for decades. For the right person, a pacemaker could mean the difference between life and death. People putting chips on their pets to ensure a safe arrival home if they're ever lost or stolen is commonplace.
Hospitals around the world already use microchips to ensure that a newborn doesn't accidentally go home with the wrong mum.
But now, small rice-grain size microchips for adults
are making headlines in the world of work
. And it's not a matter of life, death, or safety.
IT'S SIMPLY A CONVENIENCE.
Doors will open. Coffee makers will turn on. Computers will fire up. Snacks can be purchased. Printers will print.
Just with a wave of a microchip-enabled hand.
Not a surprise that Sweden, which a few years back
appointed a Minister of the Future
, is leading the way.
At a recent Microsoft conference held there, a company called Biohax inserted their own chips into a handful of Microsoft executives.
IS THEIR CEO THINKING ABSURD?
Well, I'll let you be the judge.
He is a self-proclaimed biohacker—Jowan Osterlund.
Osterlund shows up monthly at Epicenter — a digital hub in Stockholm comprised of 300+ startups and innovation labs for larger companies — to offer celebratory cyborg parties where employees can impant chips on themselves for free.
So far, 150 of their 2000 employees have chosen to put microchips on.
Since it recently infiltrated the high ranks at Microsoft, it's a safe bet that it won't be long until they show up at a workplace near you.
While this is the stuff of great science fiction, it's swiftly becoming reality.
As in the case of Neil Harbisson –
the first legally recognised cyborg
.
Born colour blind, he and a computer scientist friend invented the "eyeborg"—which has enhanced Harbisson's senses of sight and hearing well beyond what most humans perceive.
So what if he sports a permanent antenna that extends from the back of his head, over the top, only to dangle in front of his forehead?
For him, it's a small price to pay for the benefits. When questioned about his life as a cyborg, he told CNN that: "People are afraid of the unknown. They tend to exaggerate or be very negative about the possible consequences of what is new to them."
THE CYBORG HAS A POINT.
Think back to the early days of Google, its then new with shocking privacy implications. Years into it, though, many of us are immune to being tracked.
We've all searched for something on Google and have then gone to Amazon to buy something entirely different. Yet lo and behold, Amazon is offering up that very first product under "Recommended for You."
Gradually, we're getting more and more comfortable with giving up our privacy and
allowing Artificial Intelligence into our lives
.
Soon, our shopping experience will be just like Tom Cruise's from the Minority Report. And we will barely bat an iris at an in-store retina scan.
Perhaps it will be a similar transition with chipping humans at work.
So, think about it.
Would you be willing to implant microchips if your employer asked you to?
Would you feel comfortable enforcing that policy with your team?
Small rice-grain size microchips for adults are now making headlines in the world of work, and it's not a matter of life, death, or safety
ARE YOU READY TO BECOME A CYBORG?
Let's hash through the pros and cons.
1. THE SHORT-TERM BENEFITS.
For The Employer, the short-term benefits are great.
They can completely control an employee's access to whatever is in the company's best interest. And there's the potential ability to track all sorts of employee activity.
Plus, in the case of Epicenter, each employee who takes the chip becomes a virtual guinea pig—helping the company to test out whatever new technology is on the biohacking horizon.
For The Employee, the benefits are limited to convenience.
While a microchip may feel cool and novel for a 25 year old techie, the truth remains that the same could be accomplished with an access card that doesn't invade the body.
And what happens if you leave the company — are the chips as simple to remove as they are to insert? Currently, the answer is unclear.
2. THE LONG-TERM IMPLICATIONS.
Health—
The microchips haven't been around long enough for us to know if they're entirely safe for the body over time.
But we do know that they're
capable of migrating to other parts of the body
, which could cause them to be overlooked during a critical medical procedure.
We also know that infection is a risk during insertion, and that the FDA has declared chips as an electrical hazard incompatible with MRI technology. Some pretty serious stuff.
Security—
If hacked, microchips implanted in your body could reveal details such as where you are and how long you've been there. Not to mention, any other personal data stored on the chip.
But who needs to wait for a security breach? A few new startups aim to provide employers with much of your personal information sans hack.
Enlighted, whose mission is to "redefine smart buildings", can monitor employee activity by its effect on the physical environment in real-time.
And then there's Humanyze, an MIT brainchild bent on overlaying biometrics analytics on the traditional employee badge.
The badges sync with devices placed around the office to
detect where an employee is at any one time
.
Oh, and then there are the microphones, which can't yet record conversations. But they measure tone, volume, and speed of voice, with the purported benefit of monitoring stress.
Imagine receiving this data real time in an aggregated, anonymised report about your team.
WAVE GOODBYE TO WHAT LITTLE PRIVACY YOU HAVE LEFT.
Ethics—
Ben Libberton, a microbiologist at Stockholm's Karolinska Institute, says the ethical dilemmas will grow proportionately to the sophistication of the chips.
"The data that you could possibly get from a chip that is embedded in your body is a lot different from the data that you can get from a smartphone," he says.
"Conceptually you could get data about your health, you could get data about your whereabouts, how often you're working, how long you're working, if you're taking toilet breaks and things like that."
Libberton said that if such data is collected, the big question becomes— who uses it, and for what purpose. Epicenter gets around the ethics issue by keeping the microchip implantation voluntary.
SO THEY'RE OFF THE HOOK FOR THE MOMENT.
Meanwhile in America, about six months ago, Elon Musk announced a new venture called Neuralink.
You guessed it — it's a brain hacking startup.
While Musk
has been pretty outspoken about his fear of AI gone awry
, he's clearly stepped out onto an ethical bleeding edge.
But, this isn't a far-fetched fantasy that is reserved to only the biggest organizations but it is a thing that is coming to the masses in near future.
BUT IT'S AN EDGE THAT FIRST APPEARED OVER 50 YEARS AGO.
Philip K. Dicks' short story We Can Remember It for You Wholesale was first published in 1966.
It's a story that inspired the 1990 film Total Recall.
It starts with Douglas Quaid (Arnold Schwarzenegger) having nightmares about a strange life on Mars and ends with him realising that a chip his employer implanted in his brain is controlling his memory, his identity and his sense of self.
His whole life on earth is just a dream.
So before you dismiss the subject of this article as a far-out fantasy versus a trend whose time has come, remember:
I'll be back.