Ignite: How to Find Great IT Talent during Such Uncertain Times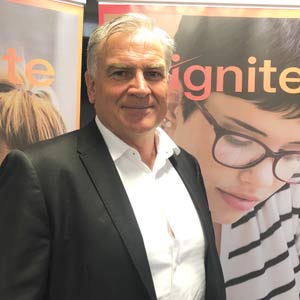 Garry Sladden, Chairman & Acting CEO
Never have the lyrics of a song more aptly embodied the issues currently faced by the recruitment industry. Despite implementing increasingly aggressive hiring methods, managers are, as Johnny Lee once famously crooned, "looking for love in all the wrong places."
Good talent, like love, has never been more evasive nor harder to find. The current COVID-19 pandemic has heightened these issues to unprecedented levels. As the world now depends on technology to get us through lengthy periods of social isolation, IT talent is in higher demand than ever before. Yet, talents are bunkering down with the rest of us, meaning they've never been more difficult to access.
While organizations continue to use antiquated hiring plans, an unprecedented skills shortage is being felt in some of the world's fastest growing sectors. Managers far and wide are feeling the strain this is having on company productivity and profit.
So, where does a hiring manager go to find great talent?
According to the recruitment experts at Ignite, it's less about "where?" and more about "how."
Ignite Victorian General Manager, Cyrus D'Cruz, explains, "If recruitment was as simple as gaining access to a talent pool and offering them work, the recruitment industry would not exist! Finding and accessing great talent with the requisite soft and hard skills is complicated and challenging, especially in this current climate of economic uncertainty."
Cyrus goes on to explain that in today's competitive market, relationships are everything as trust become a key deciding factor for talent, when it comes to considering a career move.
"At Ignite, we spend a large portion of our time fostering strong relationships with our talent pools and business network. This includes those both active and passive candidates and especially those reluctant to risk a change in career. Trust takes time to build and becomes the key tool in being able to activate the right IT talent market for our clients"
Gone are the days when a hiring manager could post an ad on Seek and expect to see a swarm of eligible candidates waiting in their inbox the following morning. This is why you will no longer find the more advanced specialist recruitment consultants sitting in the office sifting through CVs.
"We sponsor a whole range of companies like WIC (Women in Information and Communication)," says Cyrus.
"We were hosting and attending events. Now, due to current restrictions, we're brainstorming innovative ways to digitally connect with our networks, to nurture existing talent pools and generate new ones."
In today's competitive market, your employer brand is one of the most significant factors that determines whether you lure and secure great talent
Recruiters, it seems, are spending an increasing amount of time thinking outside of the box to proactively seek out hard-to-find candidates with whom they can generate tight, long-lasting relationships. One of the major benefits of investing in innovative activities such as those mentioned above, is that the payoff is long lasting.
"We spend time getting to know our candidates. And the result is that many of them have now been with us for over thirty years. In fact, plenty of our candidates end up becoming our clients," explains Cyrus. "We are very proud of the strong relationships we foster. To us, genuine relationships are everything."
Another recruitment myth that tends to create a major obstacle for hiring managers when it comes to finding new candidates, is the belief that the responsibility lies with the candidate. IT talent are in the driver's seat in today's labour market and the onus is on employers when it comes to finding and retaining top talent.
In today's competitive market, your employer brand is one of the most significant factors that determines whether you lure and secure great talent. Your employer brand can be defined as the value a company gives to its employees as well as its reputation from a potential employee's perspective.
A bad interview experience, for example, can influence your brand more than you may realize. It doesn't just alienate one potential employee. Studies have shown that people are much more likely to share information with their peers when they've had a negative experience. Today, thanks to technology and social media, one negative incident can reach thousands of people instantly. Hence, a handful of frustrated candidates can quickly deter the candidates you most want to secure.
Similarly, if employee engagement is low, disengaged employees widen the talent gap when they leave, taking their valuable skills with them.
So, to continue our theme of quoting well known popculture phrases: "If you build it, they will come."
And to elaborate on Kevin Costner's wise adage, "If they come and you treat them poorly, they will go straight to your competitor!" It's important to value your talent. The rising skills shortage means that not only will your talent be increasingly difficult to replace if you lose them, your competitors will be eager to recruit them.
Last but not least, sometimes when you're looking for love in all the wrong places, rather than just changing the direction in which you look, it might be worth challenging your selection criteria. You might want to begin by asking yourself if unconscious bias has influenced your hiring behavior.
For instance, less than 10 percent of IT employees globally are women, yet women make up more than half of the global business population. Recent studies have demonstrated that when given the chance and gendered obstacles are eradicated, women prove to be equally and often more productive than their male peers, while offering a host of benefits that come with a more diverse culture.
"There are a range of initiatives with the sole purpose of introducing more women to STEM subjects," explains Meaghan Sutherland, Ignite's Victorian IT & Digital Manager.
"At Ignite, we are very active in this space. Not only are we out there finding the best female candidates to fill those roles, we encourage our clients to implement a diversity strategy. We know a diverse workforce breeds a healthier culture and, most importantly during the skills shortage, a much greater pool of skilled candidates."