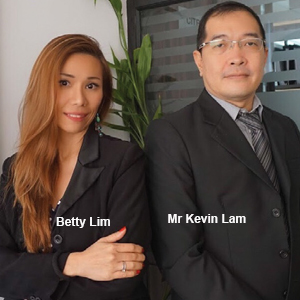 Betty Lim, Founder & Director and Mr Kevin Lam, CPA(Business Partner)
With a population of over 640 million and an average growth rate of five percent, South East Asia has become a business expansion hub for organizations across all verticals. Particularly in Vietnam, rapid business development is transforming the country from a small planned economy into one of the fastest-growing economies in the world.
Establishing a new operation in a new country is challenging for a foreign organization, and in order to succeed and manage the cost, many companies choose to outsource their back-office operations to external service providers, especially in developing countries like Vietnam. This enables companies to focus on their business operations while at the same time ensure full compliance with the local regulations.
Staffing is an effective way of getting a foreign company started in a foreign land. Business owners, entrepreneurs, and corporate investors can focus on their core business activities without having to worry about issues of hiring and managing employees, not to mention the statutory compliance as per local labor laws. The advantages of staffing outsourcing include standardization across all recruitment processes, seamless continuity, provision of expert-level updates on the laws and regulations, elimination of conflict of interest, enhanced confidentiality, automation via cloud services, maximization of cost-saving, and 24/7 consultation advice.
In Asia-Pacific, Finex Group is a boutique practice that provides a wide range of corporate services, headquartered at Vietnam. Finex was established 12 years ago in Vietnam and is one of the fastest developing economies in the region today. Finex initially started out providing HR consultancy and related services to meet the needs of foreign-invested enterprises for valuable resources, such as recruitment and associated support services, including payroll and outsourcing.

Started as a four-member team, Finex Group has since grown and now comprises of four separate companies. Each company focus on separate services and Finex Group now provides a full range of corporate services from human resources to accounting, taxes, compliance with the objective, and capability of meeting the needs of clients—all under one roof. In 2019, the company employed more than 40 skilled employees working across two offices in Vietnam, i.e. Ho Chi Minh City and Hanoi. The management at Finex Group comprises leaders with proficiency in related fields such as accounting, taxation, human resources and outsourcing, and brings with them international experiences of working in different countries in the Asia Pacific and Europe. Finex Group's clients include companies from all four corners of the world, comprising of multinational companies as well as SMEs. "We are a one-stop services provider that helps clients satisfy the various needs and demands of expanding their business in Vietnam, but in a simple and cost-effective way," says Betty Lim, founder and director of Finex.

By leveraging the extensive HR experience of its board of directors, Finex supports foreign investors with their recruitment, payroll, staffing, labor law compliance, and expat work permit needs. Besides, the company offers advisory and consulting services to help its clients bolster their tax planning and related due diligence, crisis management, accounting, bookkeeping, and tax compliance operations. Moreover, under its corporate services portfolio, Finex also provides comprehensive services for licensing newly established companies (including pre and post-licensing) and a plethora of office leasing offerings to ensure the seamless establishment of workplaces in Vietnam's ever-changing labor regulations.

With such an all-inclusive and robust portfolio, Finex's continued focus remains at revolutionizing the recruitment process outsourcing and payroll management services in Vietnam, and the world at large.